AMERICAN LANDSCAPE ARTIST
A native of Santa Clara Valley, California, Charles graduated from Arizona State University with a degree in Fine Arts.  He chose to remain in Arizona where he worked as a commercial artist for seven years.  In 1978 Charles began painting full time as a fine artist.
His first sellout show of 30 paintings was with the El Presidio Gallery of Tucson in 1982.  Since then he has sold out all his shows throughout the country. He has exhibited in Los Angeles, the San Francisco Bay area, Carmel, Scottsdale, Santa Fe, Jackson Hole, Dallas, Tucson, Vermont and Wyoming.  An award-winning favorite among collectors of western art, his works can be found in private, corporate, and university collections throughout the world.
Primarily a landscape artist, Pabst interprets monumental vistas and breathtaking scenery – the beauty of the American West.  His love for the wilderness is evident in his painting, as well as a love for the medium itself.  He is a family-oriented man who thrives on the interaction with his large family and circle of friends.  He often travels with his wife and children to explore, photograph and paint the diverse panorama of the west. His paintings convey the peaceful solitude and natural tranquility of the American Southwest, the history of which he has studied extensively.
Pabst has received numerous awards over the years.  Robert W. Brown's Index of Southwest Art has continuously rated his work as collectable and Pabst has been featured in articles in Southwest Art Magazine as well as Art of the West Magazine.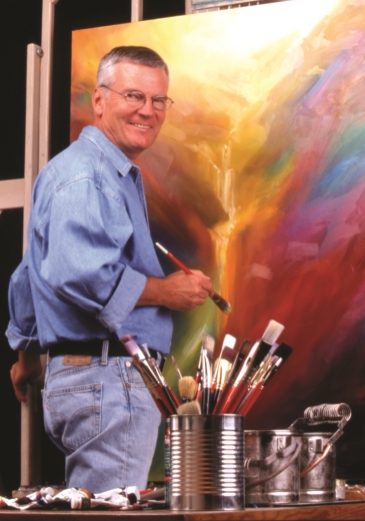 "I sold my first painting when I was 14.  I've now been selling in galleries for almost 40 years, and in that time, I've been honored for my landscapes.  They hang in collections from San Francisco to New York – England to Hong Kong."